VISIONS OF VICTORIA
The Magic of Kodachrome Film 1950-1975
By Nick Anchen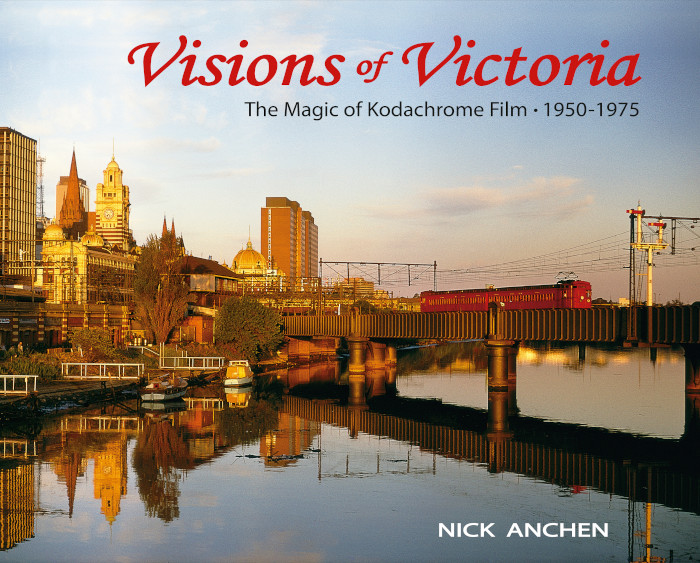 Melbourne underwent great changes in the decades following World War II, with rapid population growth and mass migration during the 1950s and '60s forever altering the face of the city. Despite the changes, Melbourne in this period was often considered to be idyllic, with an ease of life, and a strong sporting and social culture.
Kodachrome 35mm film became commercially available in Australia in the early 1950s, and with its vibrant colours and grainless quality, it rapidly became the film of choice for many photographers.
Melbourne, with its wide, tree-lined streets and fabulous 1880s architecture, was a natural subject for photographers of the period. So too were regional cities such as Ballarat and Bendigo, along with many of the state's attractive country towns and picturesque rural landscapes.
Visions of Victoria is a journey back in time to a very different place - with red trains and green trams, Moomba parades, FJ Holdens and men wearing hats - viewed through the wonders of Kodachrome, the world's most beautiful film.
FEATURES INCLUDE:

The Kodachrome Story
Melbourne Street Scenes
Melbourne's Architecture
1954 Royal Visit
1956 Olympic Games
Flinders Street station
Melbourne Cricket Ground
The 1972 Melbourne Flood
Moomba parades
Melbourne Suburbs, Ballarat,
Bendigo and Country Victoria
Plus features on Melbourne's
railways, tramways, shipping and
aviation.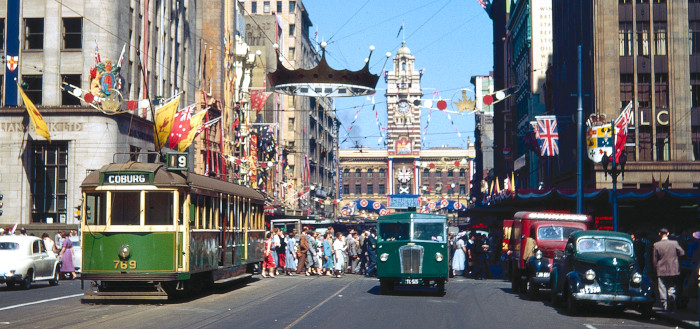 Visions of Victoria - The Magic of Kodachrome Film 1950-1975
Limited edition hard cover with stylish dust jacket. Quality 157 gsm matt art paper with spot varnish finish. 184 pages, 240 mm x 300 mm landscape. $65.00 plus postage (shop price $70.00)
ISBN: 978-0-9925388-7-3
Visions of Victoria - The Magic of Kodachrome Film 1950-1975
$78.00 ($65+$13 postage and packaging within Australia)
INTERNATIONAL CUSTOMERS PLEASE CONTACT US FOR SHIPPING RATES.